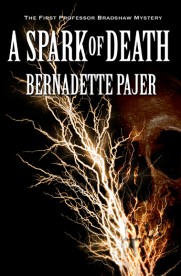 September book review
A Spark of Death
By:
Bernadette Pajer
The first Professor Bradshaw mystery.
(Seattle in the time of Tesla)
A treasure of a read picked up by chance at
Sparks; Museum of Electrical Invention
in Bellingham, which by the way, is a hidden gem of a museum.
A murder mystery set in 1901 Seattle using electricity (no, that's not a spoiler, trust me) and the mere mention of maverick inventor
Nikola Tesla
, were enough for me to buy this book.
The author has done her research and the story is liberally populated with historical details without crowding out the characters and the actual story. The details are just there to give you a sense of the place and time.
Professor Bradshaw (teacher of engineering at what is now the University of Washington) is a very human protagonist; a widower with a young son, and feeling himself withdrawn from the world, meticulously keeping track of what he has to do each day in an effort to give order and meaning to his life. The professor is drawn in fine detail and his knowledge of electricity and its uses at the time appears very accurate, which for me, adds an extra layer of interest to the story.
When he is falsely accused of the murder of his colleague he stops at nothing to find the real killer, and to figure out how it was done, in the process rediscovering himself as well.
Ms. Pajer writes as if she stepped back in time and lived the events described. Not just by including the right details for Seattle at the time, a city on the cusp of explosive growth, but by placing events in a greater historical context. In particular America's first, failed,
experiment in colonialism
; the war in the Philippines which had a tremendous impact on many of the young men who came back from the conflict and returned to university (such as the University of Washington).
Also included is mention of Tesla's alternating current power plant as demonstrated at the Chicago World's Fair in 1893 which changed the field of electricity.
I look forward to reading more in the Professor Bradshaw series.