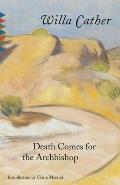 Death comes for the Archbishop
By: Willa Cather
A classic and a book often included in top 100 book lists. Certainly a book that stuck with me, as much for the storytelling as the beautiful writing. It's descriptive without being flowery or cluttered, but gives just enough to leave you with a rich impression of time and place. Almost like 'reading' a large watercolor tableau.
Willa Cather was a very insightful and intelligent author with great understanding of human nature. In 1927 when she wrote this she was able to evoke the time in the 1850s when her characters lived with uncanny detail.
The story is that of two childhood friends from France, one driven by his faith and the other by his devotion to his friend (to the exclusion of all else), who enter the Catholic church and become missionaries to the new territories on the North American continent, New Mexico in particular. Both must endure considerable hardships in terms of the climate, the terrain they travel - often by mule - and the characters they encounter.
The beauty of the book is that it captures not only what these two outsiders are feeling but also the growing pains of a country as it's being settled. It shows lives lived quietly and simply; often making due with very little as they travel around and spread the word to people too busy surviving in a harsh land to understand it. But through their kindness and faith they bring a new richness - however subtle - to the people.
The one with his unshakable faith makes greater progress in the church and eventually builds a church and becomes archbishop, whereas his friend is content to be a parish priest, Father Joseph. His faith grows as he struggles against the land, the people and his own demons, but always finding solace and strength in his friendship.
It's a quiet book which is surprisingly hard to put down. Though the action is not what we have come to expect from our entertainment today, it is fitting with the lives these two men lived, from boyhood through the adult years, to the end. It's a love letter to the American Southwest, and a deep exploration of friendship.