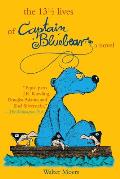 The 13 1/2 lives of Captain Bluebear
Walter Moers
This book, excellently translated from the German by John Brownjohn, is a rollicking joyride through the absurd. A story filled with twists and turns and zany pen and ink illustrations reminiscent of the artwork of Shel Silverstein.
A blue bear in the land of
Zamonia
has 27 lives, but the book only tells us of 13 1/2 of those lives. Starting with Blue Bear's birth in a nutshell and his first life with the mini pirates, which he quickly outgrows, to a period of domestic bliss and teaching at the Chromobears Academy.
This may sounds like a children's book, and kids as young as middle school can read it and enjoy it, but there is a greater depth to the story than the title and back cover hints at.
Interspersed with the life story of Blue Bear are quotations from the Encyclopedia of Marvels, Life Forms and other phenomena of Zamonia and its Environs by Professor Abdullah Nightingale. Short philosophical or scientific treatise on uniquely Zamonian items.
My copy of this book is already falling apart as it's been thoroughly enjoyed by more than one and if my offspring weren't so busy with robotics, I'd have him write a review of the book too.
There are more books set in Zamonia by Walter Moers and each one is unique and well worth reading. The illustrations add an extra dimension to the story and show the imagination of a gifted artist at work.
I'm eager to read one that's been on my shelf for a year now,
The City of Dreaming Books
, but my time is packed these days and reading is something I do less of than I'd like. Perhaps when I travel this summer I can cram a few books into my luggage to read during long flights or train rides.
And for those of you who might wonder ... yes, I have very eclectic tastes in reading. It just depends on what I'm in the mood for, or what I might be curious about. Mixed in with the classic novels, popular fiction, science fiction, superhero comics and books that defy categorizing, you'll also find biographies, art books, history books, and an occasional book on physics on my overflowing shelves.